Herein Hangs a Tail
June 2006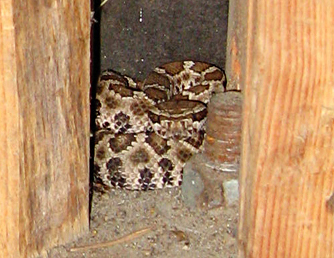 So Saturday was our eleventh anniversary. Snake eyes, right? Today, the day after our quite rowdy Midsummer party (we had our local psychelic surf band The Mermen come play this year), I was cleaning the garage (as is my custom, or OCD). While sweeping in the corner where the lawn tools are, a motion caught my eye. The pattern is second only to poison oak in my memory; I knew it instantly to be a rattlesnake. A small one, but a rattlesnake. As he felt my attention, he moved into a corner.
I called Rob. I had not one idea what to do. I had encountered snakes before, and the endings had been nasty - for the snakes. I dared to hope that Inventor Man might have an idea. He studied the situation for about 30 seconds, and then brought Duct Tape (Garrison Kielor was right), a pickle jar, and a few bamboo plant stakes to the rescue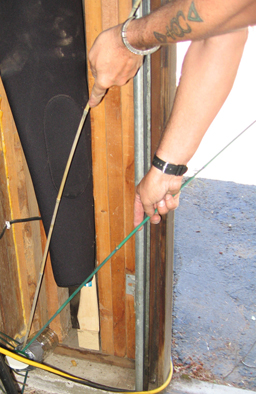 The snake was enticed (by gentle prodding) to enter the jar, and Rob clapped the lid on. The snake was caught, and he didn't like it - he struck at the glass over and over. I was amazed.
We moved into the sunlight to get a better view of the fella. He had two rattle segments, which in snake years means he wasn't hatched yesterday - maybe a year ago. Rob and I took a moment to look nature's fierce innocence in the face.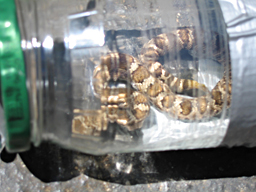 We walked to Mr. Gold's meadow. Still using the duct-tape-augmented handles for the pickle jar, Rob opened it in a grassy meadow where there would certainly be tasty lizards - nature's diner.
As we watched him scoot off, we got a good view of his tail shaking and rattling.
We calledl this snake R.F.D., for RATTLESNAKE FREE DELIVERY.
We wish him well. He was probably still in shock from the music of the Mermen, which would make anybody frisky... and shake their booty :-)
R&B.