To Nor-cal
15 June 2004
The Swedes came sweetly to the Santa Cruz Mountains. I met Dr. Torbjörn Johansson, head of the Interactiv Institut in Umeå, during a trip to in 2002. We became friends over gonzo interactive media and Bob Dylan and flowed smoothly into drinking buddies during the long, long dark-less midsummer nights of northern Sweden (Patrick Svensson was also part of our band of brigands, but younger and more moderately behaved). Torbjörn's son Marcos, a rock musician and the sort of young Swedish man that confirms certain yummy Nordic stereotypes, introduced himself to me that summer as we sucked down our umpteenth glass of crystal-clear vodka at around 2 a.m. in broad daylight. Marcos and Dr. Dan Fällman accompanied Tobbe (as we Swedish-challenged Americans are allowed to call him) to put together an installation for NextFest in San Francisco in May 2004. As our story begins, the Swedes have arrived in California. I actually expected them to cancel their visit to our home in the Santa Cruz Mountains once San Francisco had them in its thrall. But an email from Tobbe assured me: "We're in Pacifica just hanging out, when can we come up?"

Tobbe arrived respectfully attired in tie-dye, the native costume of my people, and presented me with several dangerous-looking bottles of Swedish alcohol. Setting the booze to one side, we began with a brisk hike out Castle Rock trail. It was an exceptionally fine spring afternoon, one of those days when the sun's heat is salt to the Pacific breeze's margarita - the sort of day that excites birds and bugs and baby animals to romp about as in some deranged Toon-Town extravaganza. The Painted Lady migration was just coming up to speed, black-and-orange butterflies playing touch-and-go on wild irises and peachy moneyflowers. Fence lizards raced across the trail and crashed through the chapparal. Wild peas coiled out new leaves as we watched. "Mind the poison oak," I said, and bid them to memorize the shape and texture of the leaves. I gave them the cautionary tale of my own first encounter with the plant during a spring seventeen years earlier, when I had blithely sat down to prune some plants and ended up unable to sit down again for several weeks.

As we rounded the bend on the highest part of the hike I pointed out the Monterey Peninsula, noted the marine layer, and admonished them some more about Poison Oak, throwing in a accounts of rattlesnake and tarantula sightings for good measure. While the younger men pondered these evidences of the malignant forces of nature, red-tailed hawks glided above us and out over the canyons. Tobbe set his face to the sun and quietly blissed out.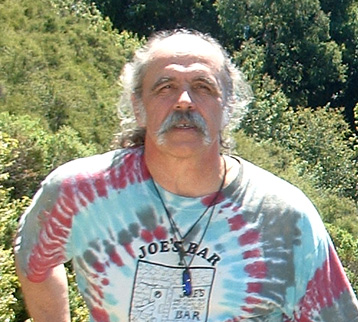 At the twin bridges we encountered a few early ladybug hatchlings (a few weeks later the air would be filled with them, spiraling away from their birthplace). Water-striders puckered the creek with their state-machine choreography. I described banana slugs and their uncanny resemblance to a particular feature of human anatom. The Swedes were skeptical. Seeking evidence, I waded across the creek to where I had seen slugs the year before and sure enough, a mustard-yellow six-incher stretched out on the mossy bank. I picked him up and presented him. All were impressed with the encounter, including the slug.

On the way back to the house Dr. Dan was attacked by an aggressive poison oak plant and Tobbe encountered more iconic Nor-Cal fauna: ticks. He had probably wandered through a deer's sleeping place. I picked them off his jeans while the boys inquired a bit too eagerly about removal methods - burning, twisting, or alcohol? At home all did the obligatory tick-check and I confiscated Dr. Dan's clothes to wash in Fels Naptha.

Cleaned up and tick-free, we moved toward the consumption part of the evening and two more canonical Nor-Cal experiences. I took great pleasure in de-flowering Tobbe with indigenous herbs. The boys, of course, were familiar enough with the concept. Tobbe seemed unchanged by the encounter; I worry that he may have no central nervous system. I opened a bottle of Bonny Doon Cigare Volant - another example of excellent local produce. Then I served a Nor-Calified Hoosier meal of BBQ chicken with chipolte sauce, white sweet corn, and our own home-grown lettuce.

It was at about this point that I realized I had a checklist in my brain - the Nor-Cal experience checklist. Sometime during the night I wandered off to bed as Rob introduced the Swedes to the fine art of Tibetan bowl playing. I drifted off to the lush hamonics of four singing bowls.

In the morning Rob made omelettes with organic veggies, then we took a walk through the Open Space at Alpine Road. At the pond we were strafed by dragonflies of every color and serenaded by red-wing blackbirds who pondered us from among tall cattails. On the long climb out to the highest point of the trail, the Swedes stopped to contemplate the "beware rattlesnakes" sign. A real live rattlesnake was the final box on my checklist. The snakes demurred, so the sign would have to do. Of all that they saw during their Nor-Cal orientation, this was the only thing that was not ephemeral.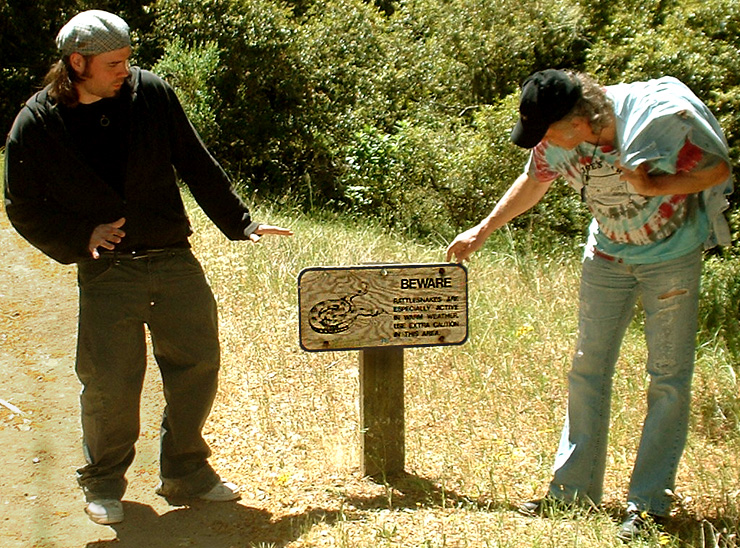 That set me to thinking about California. The Swedes remarked on the amazing diversity of plants, animals, and land forms, so unlike the few species who live in their demanding far-north climate. I came to see that it is precisely this - the eternally ephemeral state of Northern California, kaleidoscopically shifting, that imbues this place with the sense that everything is possible. I know intellectually that one can have that feeling anywhere, but for this poor buttoned-up Hoosier girl coming to the Golden West in 1979, it was the energy that made the tight bud of my life bloom into possibilities I had never imagined.

And so I see it as a verb, to Nor-Cal: to see the dance of eternal ephemera, to let it travel back along the vector of your gaze and to illuminate a parallel universe of inner possibility. Thanks to Tobbe, Marcus, and Dan - for reminding me to Nor-Cal and for joining in the dance.